Santa Claus Scammer
This is a continuation of the other trophies made by the numpty scammer, who is the subject of the The Clock Scammer.
So, moving along, it was approaching Christmas, and I needed Santa Claus photos from him to enter in to a competition to raise funds to rebuild our church, it was actually the 419eater Santa competition, but the scammer wasn't to know that, Merry Christmas 419Eater :)
I wasn't a happy bunny when I received these Santa and sleigh photos from my lad for the Christmas competition, he got a slap for this heap of crap, there are supposed to be the red noses and fake antlers on the donkeys, plus the images are too small.
He better do them all again and with red noses and antlers as I asked, or he can kiss the new church I am building for him, goodbye, he has made me look bad in front of my Bishop and other priests, he will pay dearly: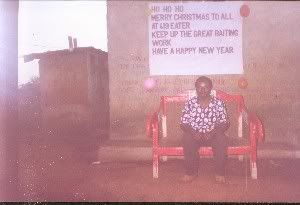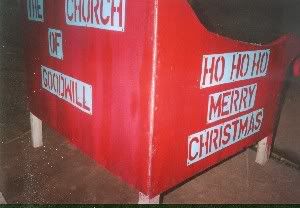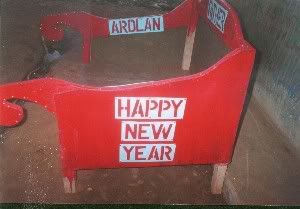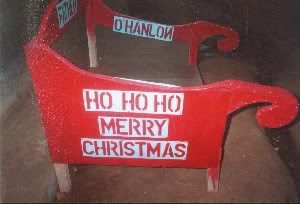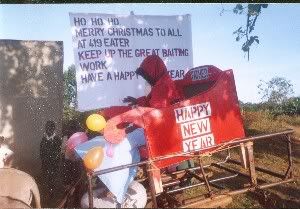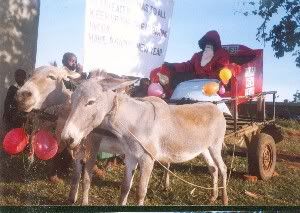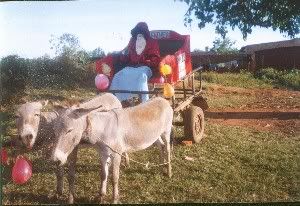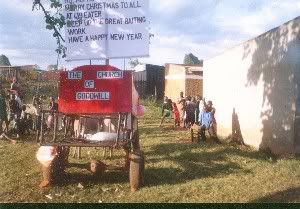 I didn't notice, but 419eater member, The False Italian, pointed out that the idiot had spelt my name wrong on the sleigh, in this image you can see the N is the wrong way around, I must bring that up AFTER he has re-done them: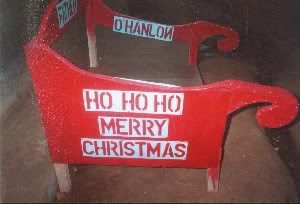 I decided to slap the bishop for his shoddy work, after slapping him, there were 2 mails in my box from the Bishop.
Dear Father O'H,
Thanks for your email message. However, I am sorry for my inability of producing competition photos that made you look stupid before your fellow Fathers and your Bishop. It was not my intention to make you displeased and unhappy.
Father O'H, may I in good faith notify you that I don't have my own donkeys. I just hired the donkeys on condition that I don't paint their nose red. What could I have done? This made me do what I sent you hoping that I had done my best, only to learn that I did not.
Father O'H, I do respect you as my brother in CHRIST. Therefore, Jesus Christ who is the HEAD of our CHURCHES instructed us to ask for anything from GOD the Father through HIM and we shall be given so that HIS FATHER'S NAME CAN BE GLORIFIED through HIM because everything has been given to him by GOD THE FATHER.
Father O'H, I am not bitter about my inability to disaprove myself as a scammer. I remember I have done very many tasks for you but I have not qualified for anything yet.However, I belief in GOD everything is possible.It is only that my time has not come.
Father O'H, I have retaken some photos without the donkeys because of circumstances that are beyond my control.My request therefore is don't be angered and blame me the way you have already done.Iam sending you this photos in two hours time. Tell me if you will accept photos without donkeys before I send them to you.I have said so because I don't want to annoy you any more.
May God bless you.
Bishop M
And his second email.
Dear Father O'H,
Please acknowledge receipt of the retaken photos before I leave the internet services place which is very far from my home. (No, you can stay there waiting, I wont mail you back :))
If these photos can not qualify to enter into the competition, I request you to forgive me for starting on a wrong note.
I thank you in advance for forgiving me.
May God bless you abundantly.
Bishop M
There are no donkeys this time, is he telling me he can't hire donkeys at short notice, anyway, he sent these photos: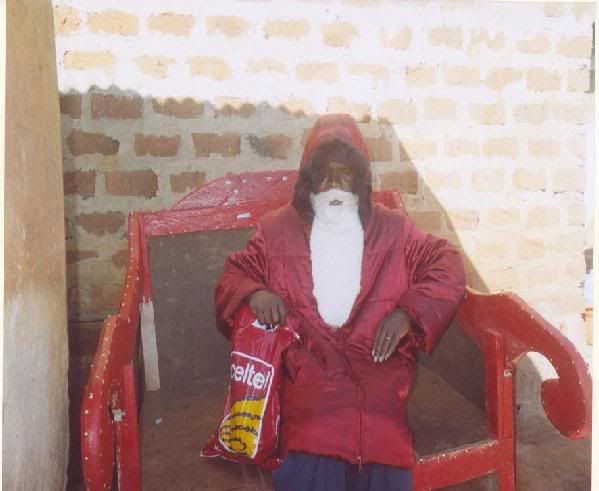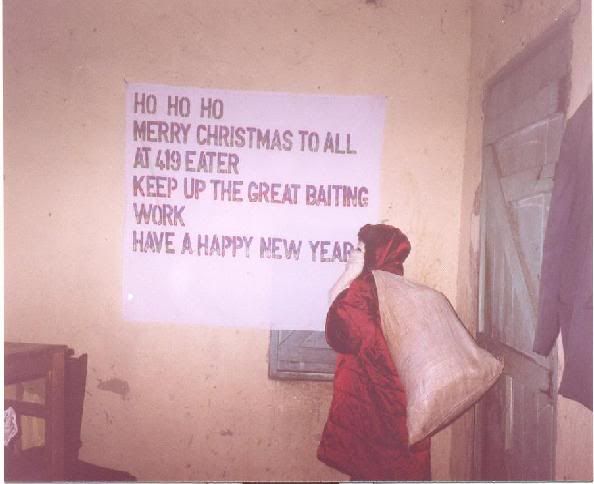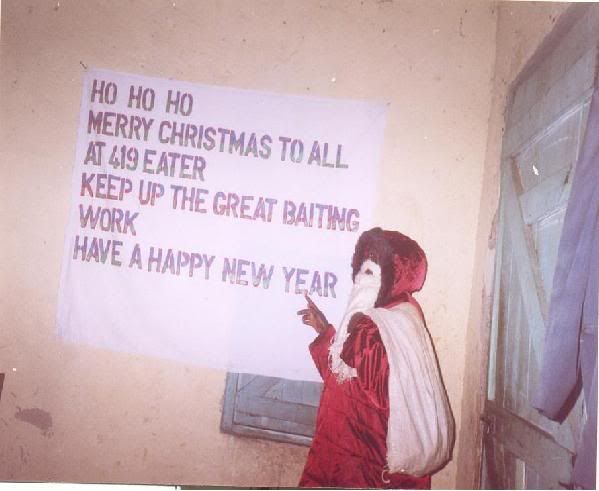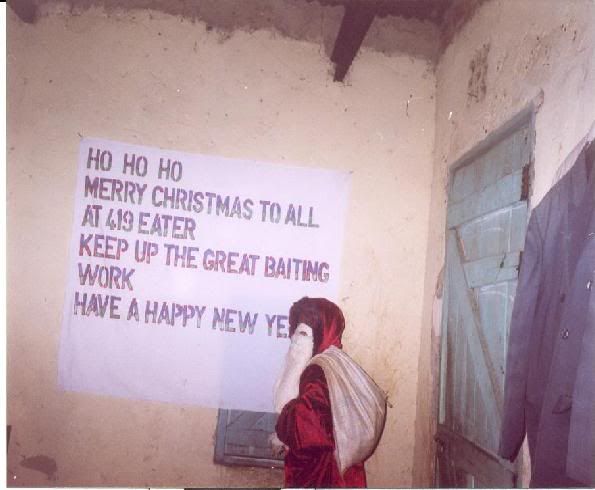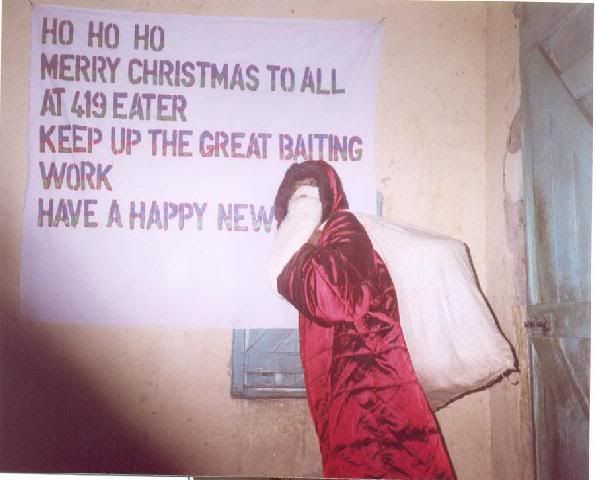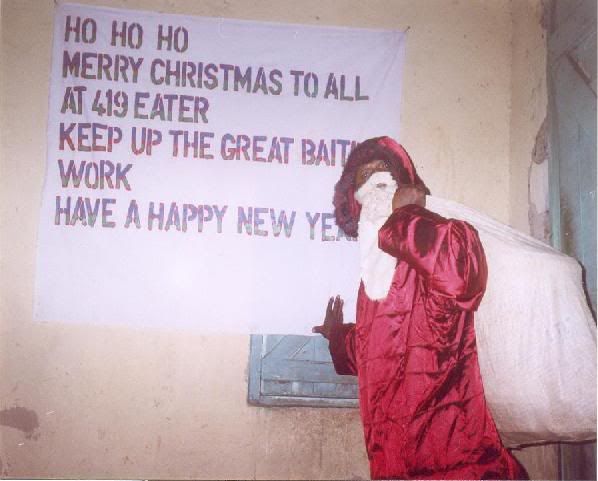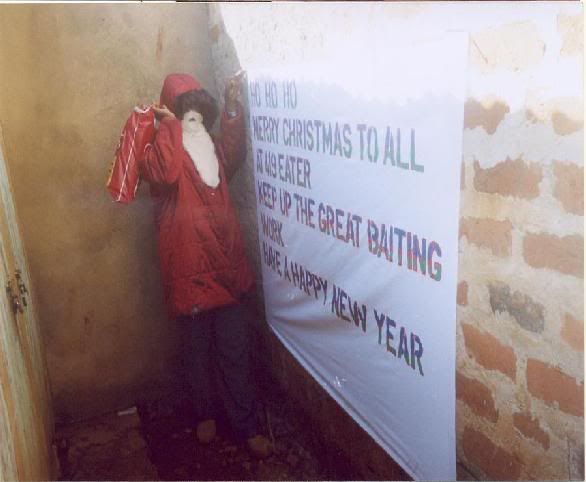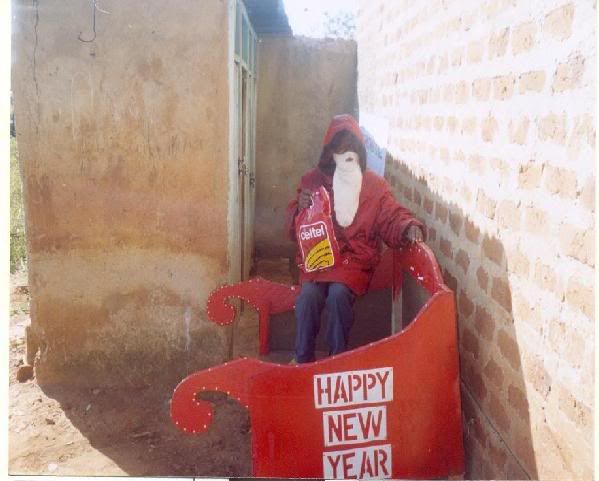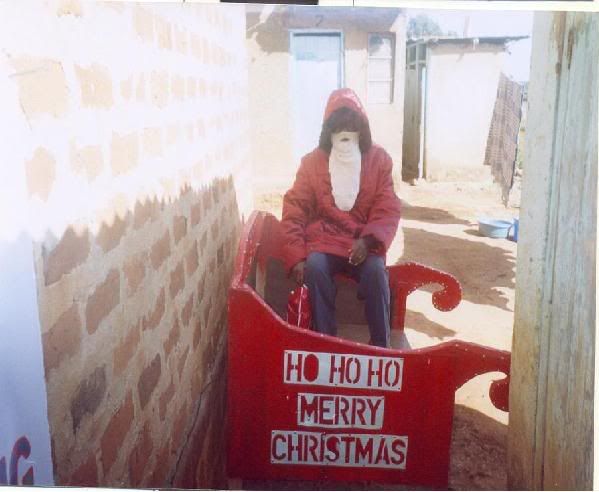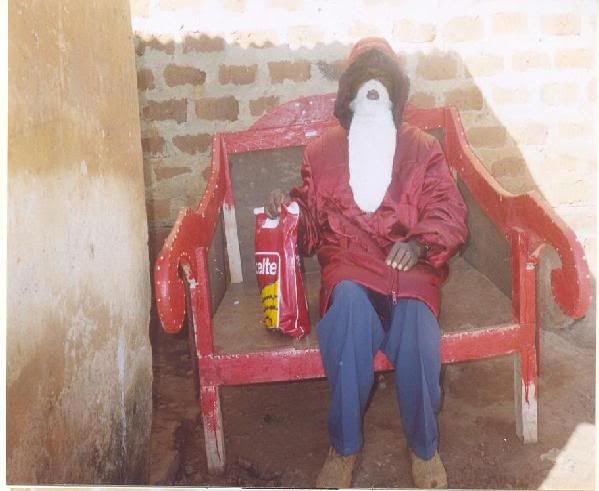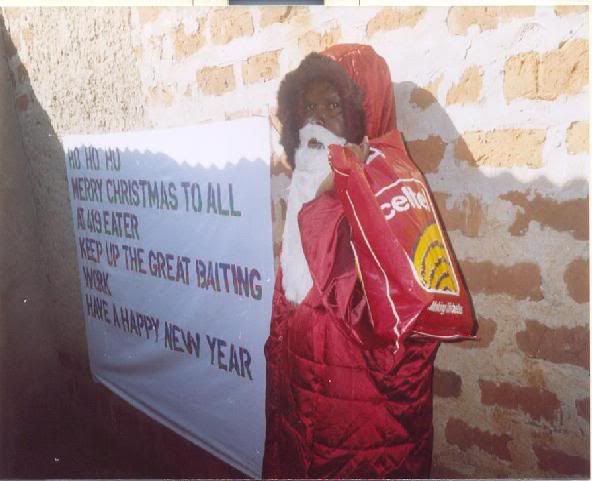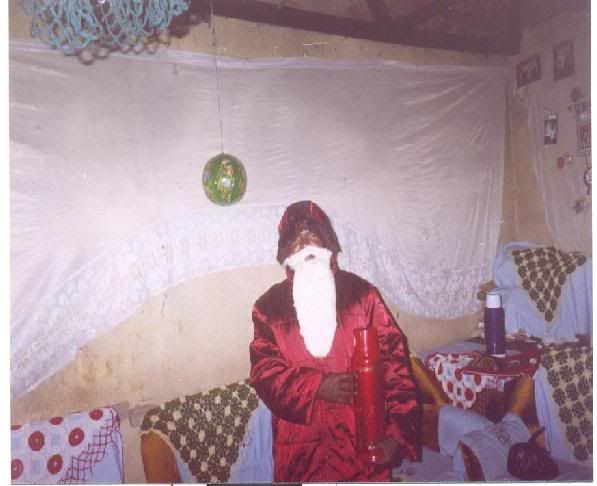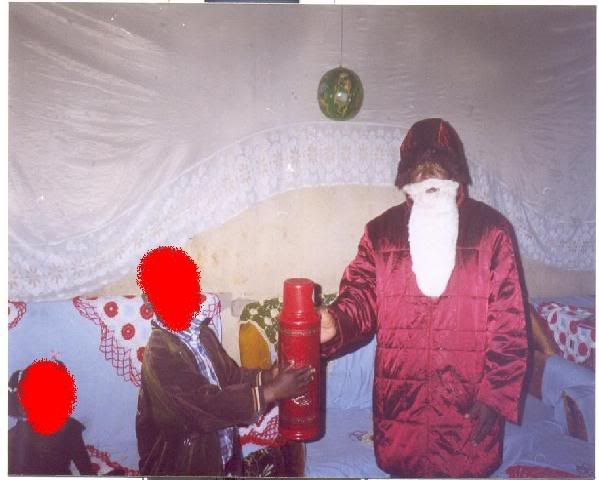 Well I left him in the internet cafe, I never replied to him saying if the photos were acceptable, and now he mails me.
Dear Father O'H,
May you please tell me about the state of the retaken photos. I am now in dillema because of my inability to enable you win this year's competition.
Anyway, don't give up because I will enable you win next year if you will let me know the task in advance. This will enable me look for the correct costumes and produce for you very good photos. (damn, he's in for the long haul roll on easter I say, wonder if he can do an easter bunny job for me , of course, the easter competition entry has to be in way before easter :))
Most important is let me know from you if you have forgiven me for the bad work that has really let you down. I didn't intend to let you down. I have done so many tasks for you that have earned me a good name before you, your sponsors your fellow fathers and your Bishop.
I remember requesting you to acknowledge receiving the retaken photos and also inform me whether they have qualified entry int the competition but because of my starting on a wrong note, you have decided not to let me know before I go home.
However, I still believe that the reward from my labour stands as per your promise. (don't worry, you will get what's coming to you)
May God bless you.
Bishop M
I still ignored the Bishop, so he sent me 2 more emails the folling day.
Dear Father O'H,
Can such a photo qualify for future competition? Costumes are my major problem.
May God bless you.
Bishop M
He sent this single photo with the email, as if all the balloons are supposed to calm me.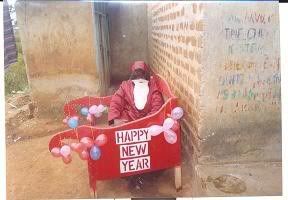 And his second email with his excuses :).
Dear Father O'H,
Before God I stand forgiven because I did not fail to produce the best photos intentionally.My failure was contributed by the following reasons:
1.The task needed special costumes that I did't have readily available.
2.The task involved the third party who could not accept his donkeys to be painted as was required.
3.The area where I live and preach people are very sensitive on any small thing that they see as unusual and that is why the owner of the donkeys did not want anything done on his donkeys.
4.The period I was given to perfect the task was too short but because I did not want to let you down by not performing the task, I tried my best which turned out to be the worst.
5.I did not have enough time to correct the mistakes after I had sent you the photos that were rejected to enter the competition. However, because of the respect and honour I have for you, I was shocked when I learned that my work had spoilt your high hopes of winning the competition this year. Hoping to correct the situation I retook other photos and sent you.
Father O'H, kindly please tell me the way forward after my failure to enable you win this year's competition due to circumstances that were beyond my control. I remember apologising for not perfecting but it appears you are so much upset that you have decided not to reply to my email messages that I have sent you. Father O'H, why should only one task out of the many I have done for you make me unwanted grantee?
May God bless you as I stand forgiven by you and all those that were annoyed after receiving the photos that did not qualify for the competition.PLEASE FORGIVE ME.
Bishop M
I will give it another day or 2 and then reply to him saying how devastated I am about the photos he did, I will probably have another little task for him to do to make up for it :).
Moving on to 4 days later, and I receive an email from the Bishop, he had done the Santa photos again, now with antlers and red noses on the donkeys, funny thing was, at the end of his email, he said he could do with a car now, like what does he need a car for, he's got a sleigh ROFL :).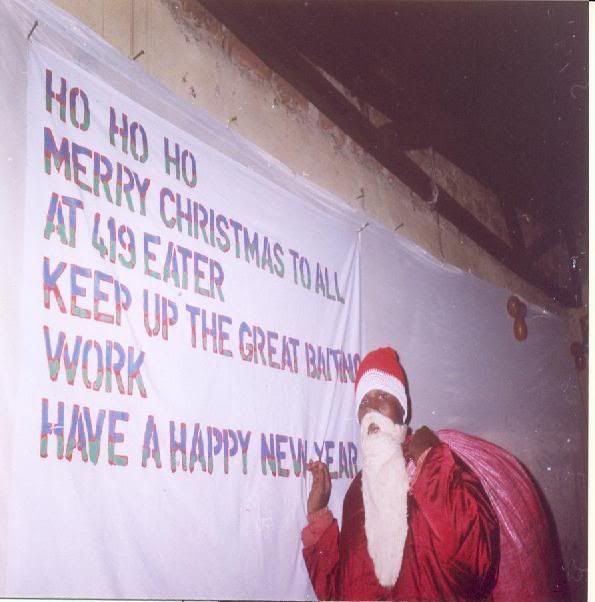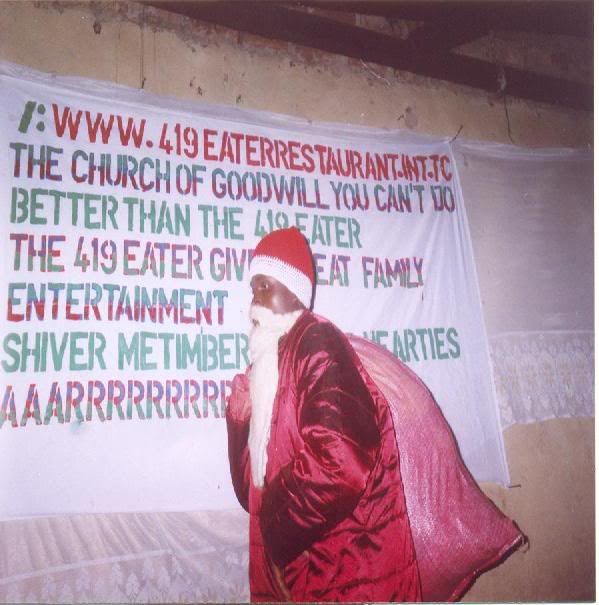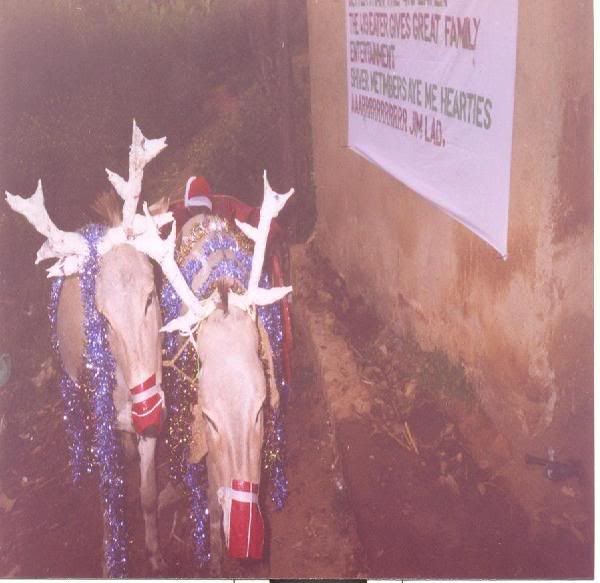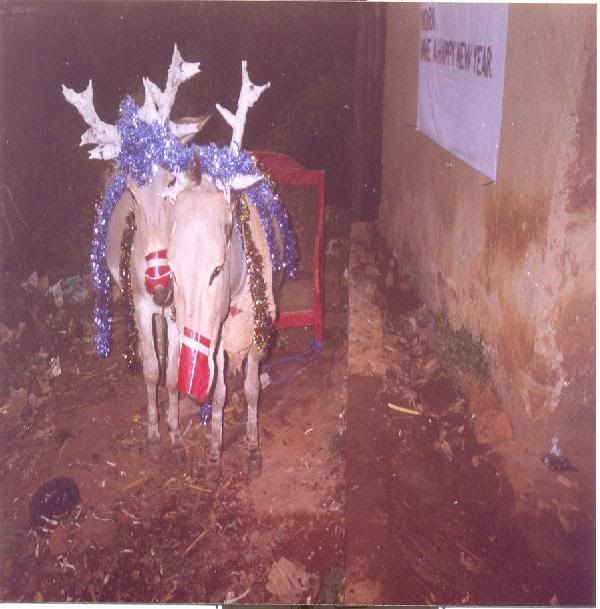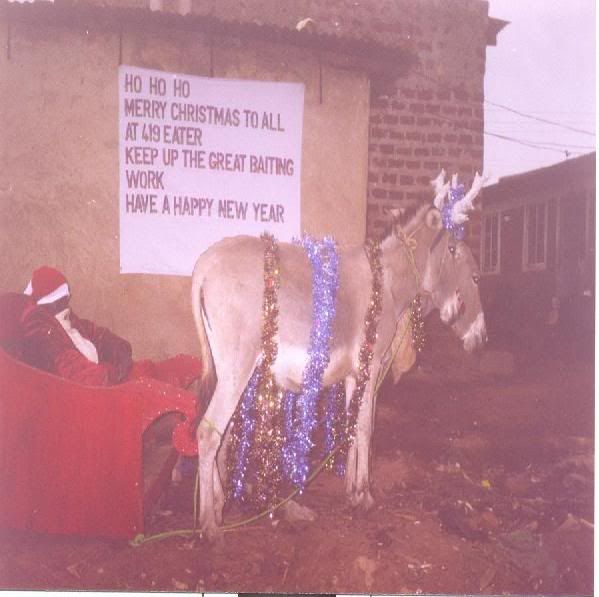 Look, an ass following 2 other asses LOL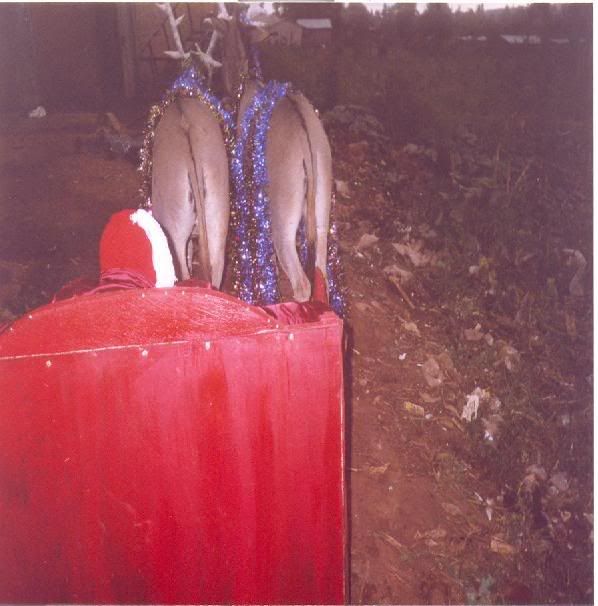 I love these antler and red nose photos :)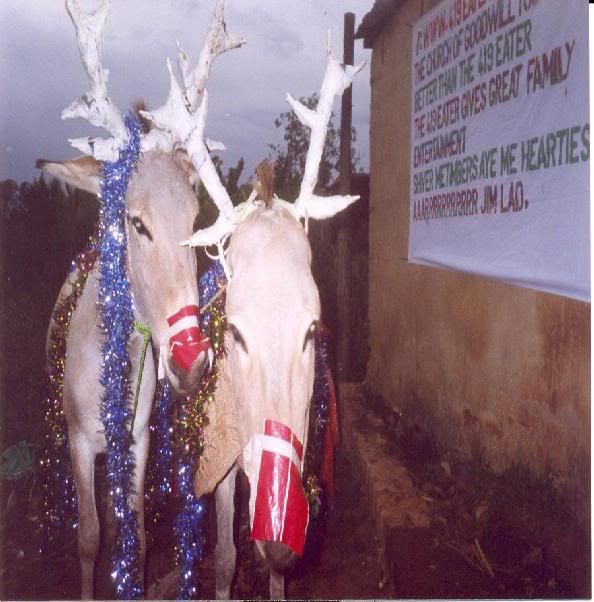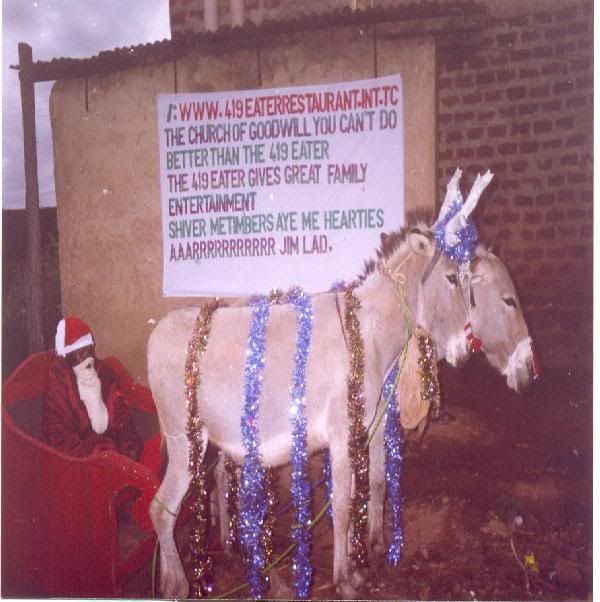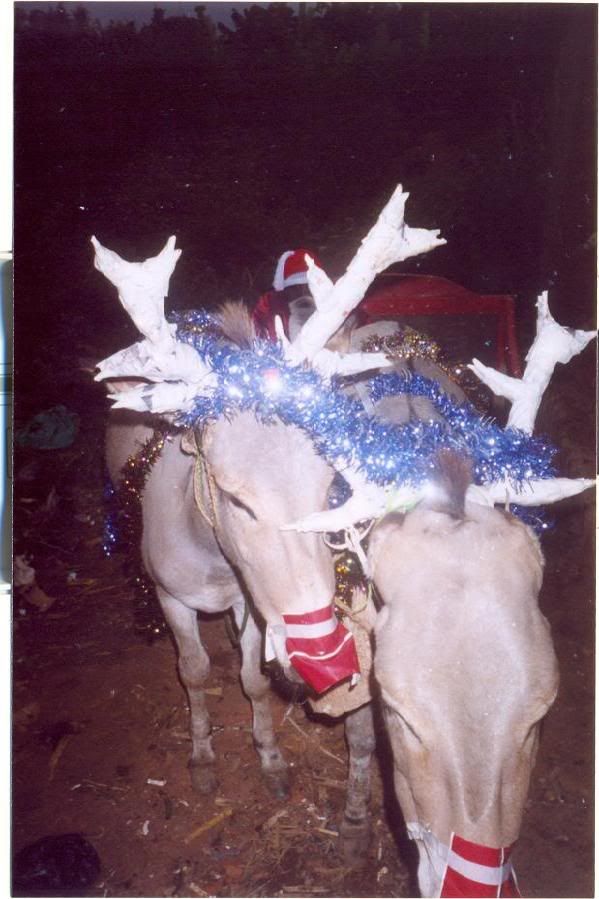 Jump forward to January 4th 2006, and the Bishop must be really sweating, I have ignored him since he sent his last load of photos above on December 6th 2005, he mailed me this.
Dear Father O'H,
I think it has been a Merry Christmas for you over there. For me it has been though with a lot of worries due to your silence.
I thought I could receive some GOODWILL from you after perfecting the SANTA CLAUS PHOTOS. I am also in dillema about the TIME FRAME of your support to my CHURCH. I am now being laughed at by people in other CHURCHES that are being supported without doing the types of tasks I have done. This has gone down very badly among my church members.
Father O'H, I am now unable to tell the way forward.However, I wish you a HAPPY NEW YEAR.
May God bless you, your Bishop and other Fathers of your CHURCH.
Bishop M
He sent this second email to me the same day
Dear Father O'H, Happy New Year. How did you fair on with the Santa Competition?
Kindly please let me know the way forward. Your silence has made me to lose hope in whatever I have laboured for since AUGUST 2005. (no, not silence, I have simply been ignoring you for the last 29 days :))
Having failed to read from you through my email address xxxxxxxxxx@yahoo.com I suspected that might be somebody might have played with my email to block any message sent to it. (now I can see opportunities with you saying that, hmmm) I have therefore opened a new email address for further communication.
Father O'H, give surity that my CHURCH is your GRANTEE and when you think my CHURCH will reap her first fruits from you.
May God bless you.
Bishop M
I was going to reply as another priest the other day saying that Father O'H had died in a ghastly car crash, but decided to carry on ignoring him.
So what to do, perhaps mail him back and say how dare he mail me after all the foul emails he sent me (letting him think, as he does, that someone may have played with his account and they mailed me loads of abuse), of course, I will not trust him fully now, but perhaps he can do another photo shoot task to prove it is really him, ideas for a photo task, hmmmm?
Well 3 days later and I had still not replied to him, I thought it was in order to let him sweat a bit more, and then I received this from him.
Dear Father O'H,
I have written very many email messages to you since December 2005 to date without receiving any feedback. I kindly request you to tell me what might have caused all this.
Keeping me in suspence like this is more harmful to me after spending my only source of income performing all those tasks you gave me for your church sponsors.
Father O'H, please tell me if there is a major problem that is beyond your control that has made it very difficult to honour your promise.My church members are expecting alot from me that Iam unable to answer after spending some church funds in performing the tasks you gave me.
Father O'H, I cannot believe that everything has just ended unceremonously like that.But if it has, kindly as a Brother in CHRIST,be frank and tell me so that I can tell my Church members to reduce pressure on me.
Father O'H, I still regard you as the only person who will provide some GOODWILL for my church,so don't let me down.
Finally I beg to be forgiven if I have offended you in any way throughout my contact to you.If my request of 6 Million to purchase a church plot annoyed you, forgive me. Iam ready to receive anything you feel suits me.Above all I request you to break your silence by replying to my email messages. Your reply to my messages is enough to cornfirm that we still together as GRANTER and GRANTEE.
May God bless you.
Bishop M
That was the last time I heard from him, sniff sniff :(, oh well, he was a good lad for me while it lasted, and he did win the 419eater Santa competition with his photos, so all in all, a good result and done loads of his money in the process, result :)
What a numpty :)