Crusade To A Fetish Village
The photos below are from a bait where the numpty scammer was trying to rip off my fake church, I guess he picked the wrong church to scam this time :) It all started with the 2 emails below, which were sent to my fake church by a known fake cheque and charity scammer, you can read the full story including all the emails sent and received on the 419eater.com site, here Crusade To A Fetish Village, his first emails:
Amount Required: 2000 POUNDS
Reason For Grant: TO SPONSOR A TWO WEEK CRUSADE IN A REMOTE AND FETISH VILLAGE TO RID IT OF ITS AGE LONG FEMALE DEITY BELIEVED TO BE EATING UP FEOTUS/EMBRYO MONTHLY FOR SACRIFISE.MANY ATTEMPTS TO GET RID OF IT PREVIOUSLY HAD SOME RESULTANT FATAL EFFECTS ON THE TEAM BUT NOW,REKNOWNED MEN OF GOD ARE WILLING TO COME WITH ME IF I AM READY.VERY STRONG MEN OF GOD EVEN SOME FROM GHANA.
THANKS FOR YOUR ANTICIPATED COPERATION.
DEAR FATHER O'H,
I JUST FILLED AND SUBMITTED YOUR GRANT FORM BUT I FEAL I SHOULD ALSO NOTIFY YOU ON MY REASONS FOR THE GRANT. REASON.....
TO SPONSOR A TWO WEEK CRUSADE IN A REMOTE AND FETISH VILLAGE TO RID IT OF ITS AGE LONG FEMALE DEITY BELIEVED TO BE EATING UP FEOTUS/EMBRYO MONTHLY FOR SACRIFISE.MANY ATTEMPTS TO GET RID OF IT PREVIOUSLY HAD SOME RESULTANT FATAL EFFECTS ON THE TEAM BUT NOW,REKNOWNED MEN OF GOD ARE WILLING TO COME WITH ME IF I AM READY.VERY STRONG MEN OF GOD EVEN SOME FROM GHANA.
THANKS FOR YOUR ANTICIPATED COPERATION.
YOURS BROTHERLY
DONALD SEAN Pxxxx
This looked from the start as if it would be a good bait, I wasn't wrong, my initial reply to the scammer from my fake priest:
Dear Donald Pxxxx,
Thank you for your email, it is absolutely outrageous that a deity is eating the feotus's and embryo's of unborn children for sacrifice, I have heard of these deities before and the evil they do, please give me a full account of what has been happening with regards to this evil doer and the fetish village, I want to know exactly what goes on there in detail, what practises do they do in the fetish village?
I would like a full written breakdown of all the individual costs that will be incurred on this crusade, please state all items that will be required to deal with the deity.
Blessings,
Father O'H
I got a reply, the lads do make me laugh :)
DEAR FATHER O'H,
THANKS FOR YOUR URGENT RESPONSE.
IT IS BELIEVED THAT THIS DEITY IS FEMALE AND WAS A WIFE TO THE god OF THUNDER"AMADI-OHA" BY THE PEOPLE OF THIS VILLAGE. THEIR ANCESTORS WORSHIPPED HER TO THE FULLEST BEFORE THE EARLY MISSIONARIES EXPLORED.
AT A TIME MAY BE EARLY 40'S TILL RECENTLY,THE ACTIVITIES IN THE SHRINE WEREN'T TAKEN SERIOUSLY BUT JUST FEW YEARS AGO,A NEW SHRINE PRIEST[OCCULTIC]WAS IMPLANTED TO RUN THE ACTIVITIES OF THE SHRINE AND THIS NEW PRIEST WITH VIGOR STARTED OBSERVING SOME OF THE ABANDONED RITUAL PRACTISES TO THE god.
ANY PREGNANT WOMAN THAT DOES NOT BRING AT LEAST A COCK (a what, oh that sort of cock :lol:) DURING HER GESTATION PERIOD USUALLY HAVE A STILL BIRTH AND ANY NON-INDEGINEOUS LADY[PREGNANT]THAT PASSES THE WAY OF THE SHRINE GETS MISCARRIAGE WITHIN A WEEK.THIS DOES HAPPEN AND SEVERAL RELIGIOUS GROUPS HAVE TRIED TO DESTROY HER TO NO AVAIL,THOUGH THEY ARE NOT SUCH A FORCE.
SOMETIME IN NOVEMBER LAST YEAR IN MY DREAM,THE LORD MINISTERED TO METHAT I WILL BE THE ONE TO FORM A FORMIDABLE FORCE TO DELIVER THE PEOPLE OF UMUCHOKO VILLAGE FROM THIS. SINCE THEN I HAVE BEEN CONSULTING AND ARRANGING WITH VERY STRONG MEN AND WOMEN OF GOD ALMIGHTY INCLUDING A CATHOLIC REVEREND FATHER FROM MY VILLAGE.AND I HAVE ARRIVED AT THE MODALITIES. I HAVE PUT IN A LOT OF MY WIDOW'S MIGHT ON THIS PROJECT UNTIL GOD DIRECTED ME TO THE CHURCH OF GxxDWILL.
AS TO THE BREAKDOWN ON THE INDIVIDUAL COSTS:
[1] THE AIR TICKETS OF THOSE COMING FROM GHANA AND THEIR FEEDING/ACCOMODATION FOR TWO WEEKS--------1,200 POUNDS
[2]HIRING OF CANOPIES AND MINI BUSES FOR CONVEYANCE-----300 POUNDS
THE CHURCH HAS PUBLIC ADDRESS SYSTEMS AND A COMPETENT GOSPEL BAND---NO COST (a fricking band, at least that's free, damn, he could have got £300 for that if he had asked nicely :))
[3]HIRING THE BULLDOZER TO CLEAR THE SHRINE AFTER THE REVIVAL/DELIVERANCE SESSION-------200 POUNDS (a bulldozer? Not heard that one before, what a cracker LOL)
[4]PRINTING OF HANDBILLS /RADIO AND TELEVISION AWARENESS JINGLES------200 POUNDS (you having a laugh mate, radio and TV jingles, would love to hear those LOL)
THIS WILL TOTAL TO 1,950 POUNDS AS AGAINST 2000 POUNDS I REQUESTED. (thanks, you saved me £50)
BUT I GUESS THE EXTRA 50 POUNDS IS FOR OTHER MISCELLENOUS EXPENCES. (I guess you didn't save me £50, make sure you use every pound wont you)
ACTUALLY,WE ARE NOT RELYING SOLELY ON YOUR GRANT BUT IT WILL HELP A GREAT DEAL. (yeah, I can just see people queuing up to help you with this)
MAY ALMIGHTY GOD BLESS YOU AS YOU ATTEND TO THIS. PLEASE IF IT WILL BE GRANTED ME,LET ME KNOW SO THAT I WILL START MAKING OTHER PRE-ARRANGEMENTS AND NOTIFY OTHER PRINCIPAL PARTICIPANTS.
ALL MY CHRISTIAN LOVE
BROTHER DONALD Pxxxx
On Google, I found a photo of the "Amadi-Oha" fetish who we will be fighting:
Amadioha (Thunder God) & His Wife:
This is the handbill he made for the crusade, it includes the name of my fake church and the spirit who looks after our church called, Fohr-Un-Ein-Eetar, which is a play on words for the scambaiting website I am a member of at 419eater
Ok, lets move forward, as with all churches, the scammer has to partake in some sort of initiation ceremony, without doing the ceremony, the scammer is not a member of the church, and therefore, we cannot help them financially, this is the initiation ceremony I made up for him and his scamming friends to do:
Dear Brother Donald Pedro,
Thank you for your email, nice to hear from you again.
Sorry for not replying sooner, I have been very busy with church work.
With regards to the handbill, I find that it looks very tacky, I dare not show it to my Bishop, he would be most disappointed, it's not at all what I was expecting!
I am also shocked to hear that the photos of the shrine came out blank, this suggests the evil doer is quite potent, but I have a way to deal with that for now.
Our guardian spirit "Fohr-Un-Ein-Eetar" is a very strong force, far stronger than the evil deity in the village shrine, "Fohr-Un-Ein-Eetar" was personally blessed by him emminence, Pope John Paul of the Vatican whilst he was on a visit to our church in the UK, her power is beyond anything you have there, and we use her in our cleansing ceremonies when performing exorcisms on haunted houses and against poltergeists, so here is what I would like you to do.
You need to perform the "Fohr-Un-Ein-Eetar" cleansing ceremony, that will protect you and any people who go near the shrine and it will protect the whole village, it will also enable you to take the photos of the shrine.
You will need the following items for the ancient cleansing ceremony of the 12 points:
13 people (they represent the 12 Apostles and Christ)
A tin of white paint
30 large white candles
12 pints of milk (preferably cows milk, but goat milk will suffice)
A large jar of honey
12 buckets of water
Some petrol and matches
12 large fish (represents the fish used in the miracle in the Bible)
12 loaves of bread (represents the bread used in the miracle in the Bible)
DIRECTIONS FOR THE CEREMONY OF THE 12 POINTS:
1) Paint a large 6 pointed star on the ground as close to the shrine as possible (I have sent you images of what the star looks like for you to copy)
2) 1 person needs to stand at each junction of the star lines, 12 people in total (as indicated by the circles on the star image I have sent you).
3) The 13th person plays the part of annointing the other 12 people on the star.
4) On each "outside" point of the star (6 star points) there must be a lighted candle, then each person must hold a lighted candle in each hand (all candles are too be lit by the 13th person).
5) In the centre of the star, use the white paint to write the words "Fohr-Un-Ein-Eetar", the 12 people on the star must chant those words "Fohr-Un-Ein-Eetar" 12 times during the ceremony. 6) While the 12 people are holding lighted candles, the 13th person shall pour half of the cow or goats milk over the head of each person standing on the star.
7) The 13 person then has to rub honey on the heads and chests of the 12 people standing on the star, after using the honey, use the remaining half of the milk and also pour that over the heads of the 12 people on the star.
8.) Once the milk and honey cleansing has been completed, each of the 12 people on the star has to have a loaf of bread placed on their head by the 13th person.
9) Now each person on the star has to hold a fish in their mouth, the 13th person has to place the "tail" of the fish in each their mouths for them to hold on to, at the same time, they must all hum the words "Fohr-Un-Ein-Eetar" 12 times, if any of the 12 people drop the bread or the fish, then all 12 people must repeat that part again!
10) The ceremony is now almost finished, you now need to take the bread off their heads and place it at their feet so they can stand on the bread.
11) Now take the fish from their mouths and place the fish on their heads, now they must again chant the words "Fohr-Un-Ein-Eetar" 12 times.
12) Finally, the 13th person must remove the fish from each of their 12 heads, they must also put each candle out one at a time starting from the outside points of the star and working inwards to the inner junctions, then pour 1 bucket of water over each of the 12 people on the star for the final cleansing. Now take the candles, paint, bread, fish, honey and milk and place them right in the centre of the star, pour plenty of petrol over them and set fire to them, whilst watching them burn, chant "Fohr-Un-Ein-Eetar" another 12 times, you have now completed the "ceremony of the 12 points".
You are now fully protected from the evil doer and can go as close to the shrine as you like, no harm will come to you as "Fohr-Un-Ein-Eetar" will protect you at all times!
I will require photos showing each of the 12 stages of the ceremony to make sure that it has been done properly, once I have the photographic proof, I can continue with giving you your £2000 grant, I am sure my Bishop will be tingling with anticipation, we will rid the village of the shrine and the evil doer once and for all!
Blessings,
Father O'Hanxxx.
I sent him these 2 images to copy, whether he will do it or not I don't know, worth a crack at it anyway:
After numerous emails back and forth, he did the ceremony, got some great photos, especially the one where they all have loaves on bread on their heads: his email:
DEAR FATHER, THESE ARE THE PICTURES REPRENTING EVERY STAGE. AS YOU CAN SEE,THE SOIL IS DAMP AND AS A RESULT,THE STAR PAINTING IS A LITTLE FAINTY,BUT ALL OTHER PROTOCOLS WERE OBSERVED. like f*ck the protocols were observed, fooooool GRRRRRR
LOOKING FORWARD TO HEARING FROM YOU.
BROTHER DONALD
The photos he sent of the cleansing ceremony :):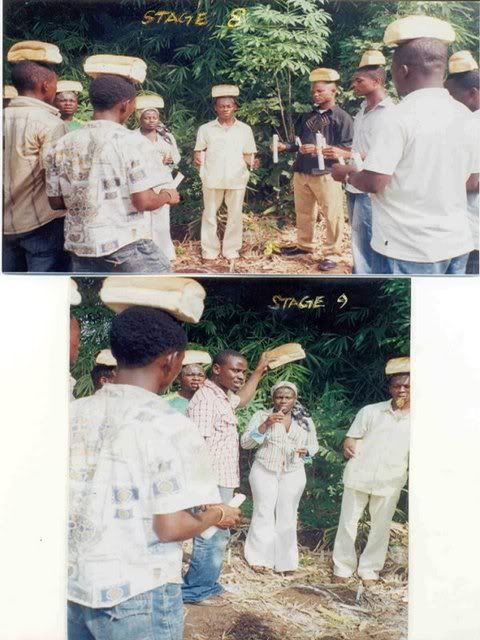 It's a shame the ceremony wasn't good enough to pass our strict standards, he'll just have to do it again, I replied telling him the ceremony was a failure, I wonder what he will say to that :)
Dear Brother Donald Pedro,
Thank you for your email, sorry for not replying sooner, I was having problems with Hotmail yesterday and I could not log in to my email account.
I have to say I am very disappointed with the cleansing ceremony photos, I dare not show the photos to my Bishop for his approval, as I know he would tell me not to give you the grant based on them, and I do want to give you the grant, so it is best if you rectify the problems as soon as possible. There are several reasons why the ceremony was not done correctly.
1. The star you painted on the ground is hardly visible, you have painted it on to lumpy clumps of grass and leaves, you should have cleared and levelled a large patch of ground so that the ground was flattened mud, which means the star could be seen clearly.
2. The star is far too small, the people standing on the star are to close together, they need to be further apart on a larger star.
3. One of the women on the star is wearing a dress, no dresses are allowed to be worn during the cleansing process, it is absolutely forbidden.
4. You were instructed to rub honey on to the bare chests of all the 12 people on the star, you have not shown any photos of that stage at all. All of the people are wearing shirts or tops, the ceremony should be performed topless so that we can see the honey on their bare chests.
5. we need to see photos of each person having the milk poured over them, each person having the honey rubbed on their chests.
6. The fish you used were far to small, you can hardly see them, they look like small sardines from a tin, large fish at least 12 inches long are to be used. Also, in the photos, not every person has a fish in their mouth, we need to see each person holding a fish in their mouth.
7. Some of the women are wearing headwear, no person on the star is allowed to wear anything on their head,otherwise the milk and water is not going directly on to their heads, you have only shown one person having water poured over them, we need to see each individual having water poured over them.
8. I can only see 1 person standing on a loaf of bread, we need to see photos over every person on the star standing on the bread.
9. You only show the fire at the end, we need to see photos of the items being put on the fire, and also we need to see photos of petrol being poured on them and the fire being lighted.
Please perform the cleansing ceremony again and send me all of the new photos, there is no way I can show these very poor photos to my Bishop, he will be very angry!
Blessings,
Father O'Hanxxx.
The lad is not very happy with the way I am treating him :)
DEAR FATHER,
I AM NOT HAPPY AS TO THE WAY YOU ARE TREATING MY CASE.IN YOUR INSTRUCTIONS,YOU NEVER MADE MENTION OF NOT WEARING ANY DRESS OR SHIRTS.DO YOU EXPECT THE WOMEN TO EXPOSE THEIR BREASTS.I CAN NO LONGER UNDERSTAND YOU. THIS ISSUE IS BECOMING TOO DIFFICULT FOR US,CAN'T YOU SEND SOMEBODY DOWN HERE TO HELP US DO THE CLEANSING PROPERLY?
BROTHER DONALD
And so it continued for quite a long time, I asked for the ceremony to be done again, he refused, I asked, he refused or made excuses, until, quite some time later, I received 8 emails from the lad with 162 photos of the new cleansing ceremony attached, I do like the Fohr-Un-Ein-Eetar banner they made for me, I really must get that sent to the UK if I can :)
DEAR FATHER,
THESE ARE THE PICTURES OF THE CLEANSING EXCERCISE.
REGARDS
BROTHER DONALD
These are the photos he sent of the new cleanisng ceremony, these are so much better BWAHAHAHA :), I have made them as links to save killing your browser when they all load, the photo of them with the banner is on "Photos 47/48".
Photos 1/2 Photos 3/4 Photos 5/6 Photos 7/8 Photos 9/10
Photos 11/12 Photos 13/14 Photos 15/16 Photos 17/18 Photos 19/20
Photos 21/22 Photos 23/24 Photos 25/26 Photos 27/28 Photos 29/30
Photos 31/32 Photos 33/34 Photos 35/36 Photos 37/38 Photos 39/40
Photos 41/42 Photos 43/44 Photos 45/46 Photos 47/48 Photos 49/50
Photos 51/52 Photos 53/54 Photos 55/56 Photos 57/58 Photos 59/60
Photos 61/62 Photos 63/64 Photos 65/66 Photos 67/68 Photos 69/70
Photos 71/72 Photos 73/74 Photos 75/76 Photos 77/78 Photos 79/80
Photos 81/82 Photos 83/84 Photos 85/86 Photos 87/88 Photos 89/90
Photos 91/92 Photos 93/94 Photos 95/96 Photos 97/98 Photos 99/100
Photos 101/102 Photos 103/104 Photos 105/106 Photos 107/108 Photos 109/110
Photos 111/112 Photos 113/114 Photos 115/116 Photos 117/118 Photos 119/120
Photos 121/122 Photos 123/124 Photos 125/126 Photos 127/128 Photos 129/130
Photos 131/132 Photos 133/134 Photos 135/136 Photos 137/138 Photos 139/140
Photos 141/142 Photos 143/144 Photos 145/146 Photos 147/148 Photos 149/150
Photos 151/152 Photos 153/154 Photos 155/156 Photos 157/158 Photos 159/160
I said I wanted that banner, and so it was to be, this banner arrived in the UK :)
And here is the banner on the floor in the UK.
I received a few emails from the scammer asking if the banner had arrived, of course, I told him it hadn't got here yet, and as it will soon be time to give him his money, Ithought my church had better have a little accident, on Saturday, I gave him the bad news about my church burning down on Friday, I sent him this photoshopped newspaper cutting LOL :)
Because the church burnt down, I need some people to help raise money to rebuild the church, I have sponsors, but they need things making, and this scammer can help with that :), I told him a big rock band were giving us thousands of pounds towards the repairs to the church, and they needed a banner to put behind them on stage when they pay, after much toing and froing, on September 11th, the lad has sent me a photo of the new banner, and also sent a FedEx receipt showing it has been sent to the US of A :)
DEAR FATHER,
ATTACHED HEREWITH IS THE BANNER AS WELL AS A COPY OF THE FEDEX COURIER.
REGARDS
DONALD
Here is the banner and the FedEx receipt.
Here is the Tretchers banner hanging behind the band when they played at a gig in the US, no, they are not a big rock band, one of the band members is a member of 419eater who asked if somone could get a scammer to make them a banner, my scammer was happy to help out LOL
I also wanted a sign to celebrate my 9000th post on 419eater, so I made up a story about a friend doing his 9000th post as a missionary, he didn't want to make a sign, but he did in the end:
I also told the scammer that a well known writer was writing a book about scams, and for the cover of his new book, he wanted to use the book cover whilst someone was holding a print out of it in a Nigerian internet cafe, after a lot of emails, he finally came good again, the lads were all afraid of the book title LOLOL :), the book is actually a book written by Shiver Metimbers, the owner of www.419eater.com he replied
FATHER
WE FOUND IT DIFFICULT TO GET A CAFE,THEY WERE ALL AFRAID CONSIDERING THE WRITE-UP [SCAM BAITERS LETTERS] .NIGERIA IS FULL OF 419ERS
DONALD
He attached these images of the book cover being held by lads in the internet cafe
I then asked the scammer to make a Steelers banner for another member of 419eater called reprob8, giving the story that he was a wealthy man who was mad out the Steelers, again, the lad didn't really want to go to all the expense of making the banner and shipping it to the United States, in the end, he did and it was couriered, unfortunately, Reprob8 tells me my lad has made a serious error on it
This is the error:
Pittsburgh Steelsrs
Here we go Steelers
Here we go
The printer put an S instead of an E in the first Steelers, what a frickin dumbass GRRRRRRR
Here is the banner on the ceiling of reprob8's Steelers room
There were many mor whining emails, even the Pope and myself as another priest got involved, in the end, the scammer never got his money, despite also contacting me from another email address where he posed as a Reverend, and offered my church a cheque for £400,000, that would have been a fake cheque, again, in order to scam what he thinks is a real church, pure scum!
I started baiting him on May 24th 2006, the bait ended on February 8th 2007
As above, you can read the full story including all of the emails that were sent and received, here Crusade To A Fetish Village
What a numpty :)